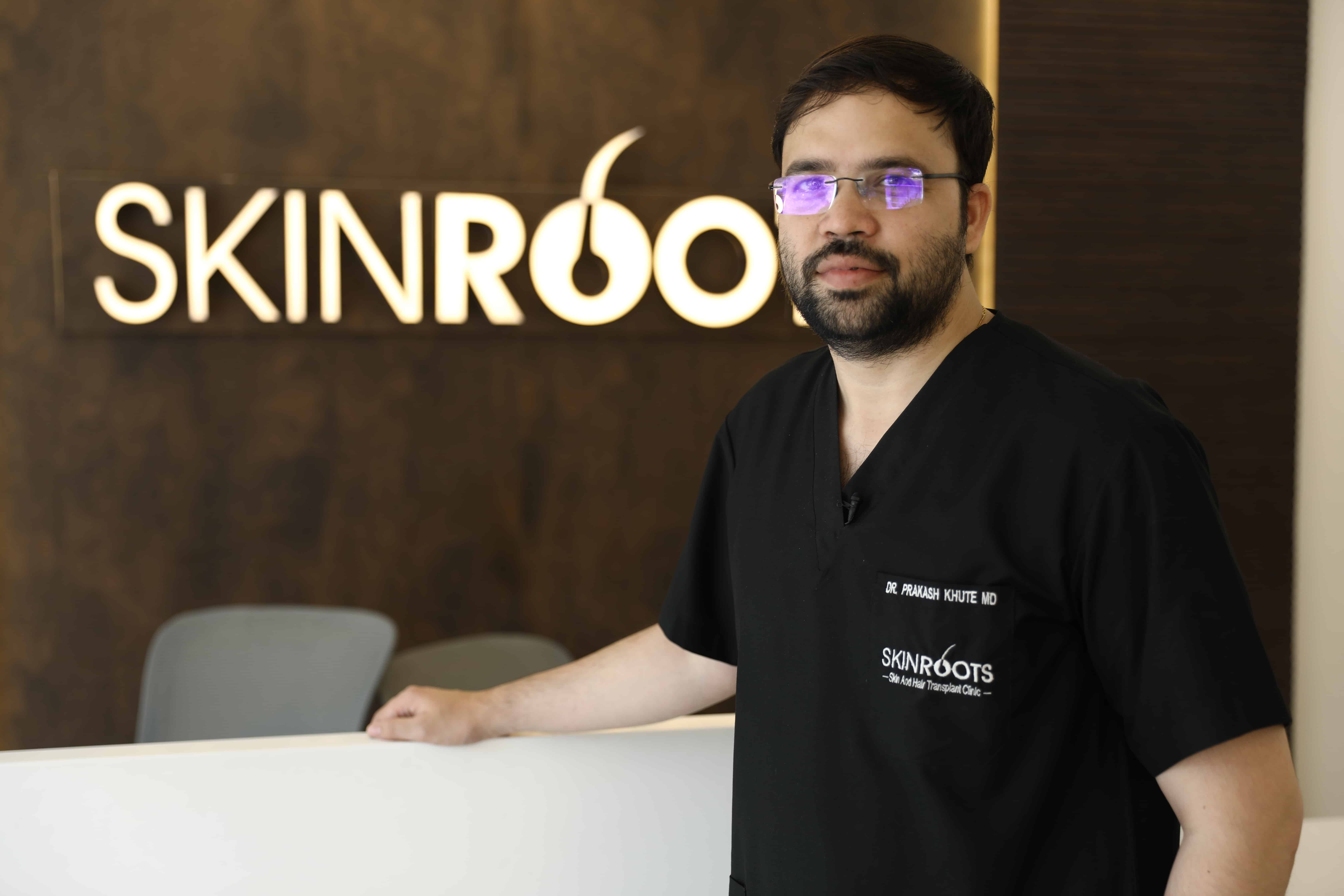 Dr Prakash Kumar Khute is considered one of the best hair transplant surgeons and dermatologists in India He has done his MD in Dermatology and senior residency from the most prestigious and best hospital in India, AIIMS New Delhi, and has been trained internationally and nationally in hair transplant surgery and Aesthetic Dermatology. He is accredited by the International society of hair restoration surgeon USA, the biggest association of hair transplant surgeons in the world.
He has trained extensively and worked with pioneer in the field of hair restorations and dermatology and attained great expertise in treating difficult and chronic skin and hair disorders. He has 15 years of experience in the medical field and over 10 years of exclusive hair transplant surgery practice. He has dedicated his career to mastering the art and science of hair restoration which has earned him a great reputation in his field.
His extensive training combined with his vast experience enabled him to develop many innovative techniques that have revolutionized the hair transplant field. He has devised a highly successful BOOST FUE technique for hair transplant which ensures maximum graft survival and 100% successful result.
Dr Prakash Khute has done over 2500 successful hair transplant surgeries and is well known for his exceptionally natural hair transplant results. His artistic ability to create undetectable natural hairlines and highly dense hair transplants garnered him a great reputation and earned him much loyal clientele including Bollywood and Tv celebrities, actors, models, politicians and well-known figures of the corporate world.
Dedicated toward his patients he always followed a patient-first approach where he gives utmost importance to patient queries and always tries to find a solution to their problem so that they can be helped in every manners. Expertise, innovative techniques, and commitment to his patients earned him a reputation as the most sought-after hair transplant surgeon in the country.
He is the founder and chief hair transplant surgeon of Skinroots clinics, one of the leading hair transplant clinics in Delhi. With his current 3 centres and his team of dermatologists and hair transplant surgeons, he is rendering services to national and international patients.
Dr Prakash khute is very keen on academics and also does regular training and CME for his fellow dermatologists and plastic surgeons. He is a life member of the Indian association of Dermatologist Venereologists and Leprologist (IADVL), Association of hair restoration surgeon of India (AHRS), Association of cutaneous Surgeons of India (ACSI) and Indian medical association.